We have been blessed with a lot of press sharing the changes that are happening. The opportunity to give back to the community and help thy neighbor is within reach. 100% volunteer effort doing so much for those in need in our city.
Overdoses a Factor in Recent Spike in Homeless Deaths
By Mark Hayward | New Hampshire Union Leader, July 15, 2021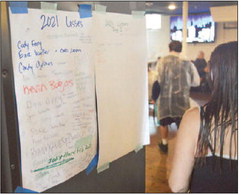 At 1269 Café, a Christian-oriented shelter and recovery center, the names of a couple of dozen people who died in 2021 are listed on a poster in the dining room. (MARK HAYWARD / NH UNION LEADER)
Five Manchester homeless people have died in the last month and a half, a tally that advocates for the homeless say is higher than normal and lacks explanation.
The deaths have taken place in tents and hospital beds.
Three involved suspected overdoses, according to a tally provided by the Manchester Fire Department. The father of a fourth told the Union Leader that his son died of an overdose and was often homeless.
The body of a fifth person was found in the Merrimack River, and officials are awaiting the results of toxicology tests to determine a cause of death.
Just this month, American Medical Response, the city's ambulance provider, reported that overdoses — both fatal and non-fatal — were up in June in both Manchester and Nashua over June 2020. AMR said the overdoses point to a resurgence in opioid use and availability.
---
Christian Homeless Ministry in Deal to Buy Former St. Casimir School for Expansion
Manchester Link, June 26, 2020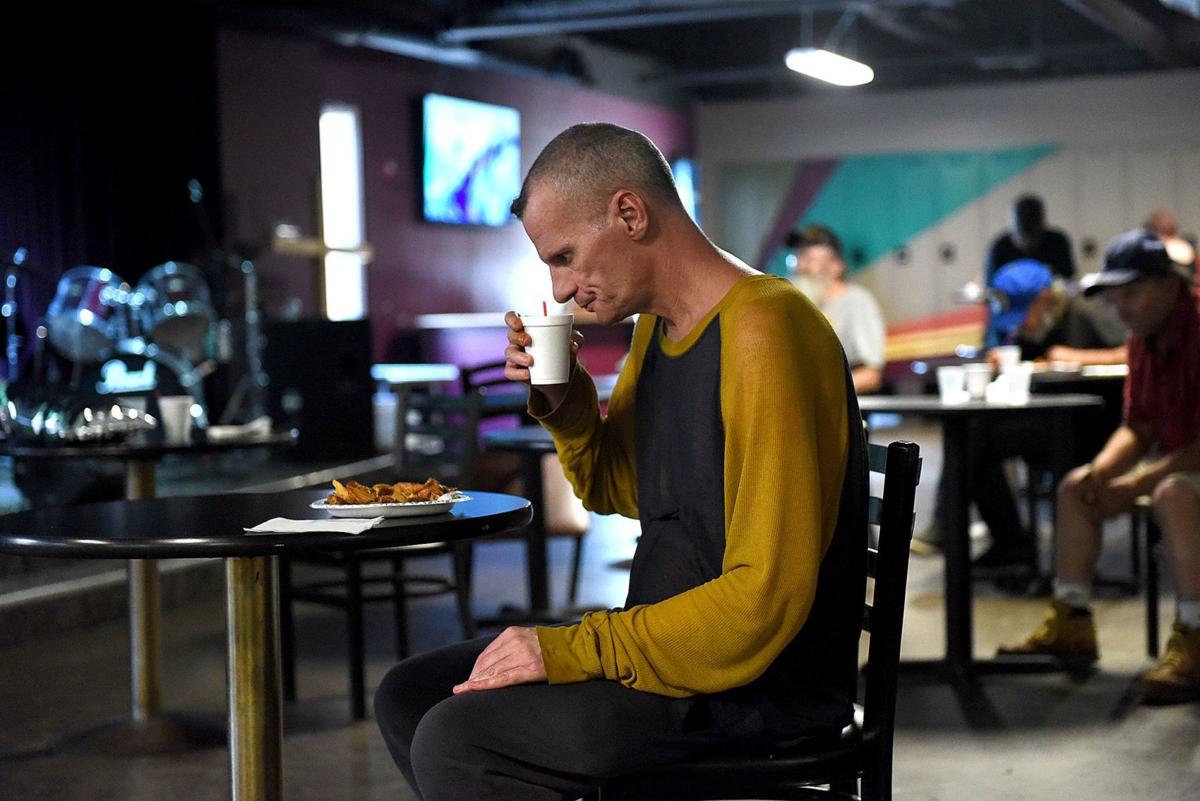 Bruce has lunch at the 1269 Cafe in Manchester on Tuesday. Bruce Damoto of Manchester. (DAVID LANE / UNION LEADER)
MANCHESTER —A Christian homeless ministry is poised to buy the former St. Casimir school building for an outreach-recovery center providing various support services for the homeless, including housing.
The Catholic Diocese of Manchester, owners of the four-story brick school building on Union Street, is in final negotiations with 1269 Café for the property, according to the founders of the 11-year-old organization, Craig and Mary Chevalier.
For the past four years, 1269 Café has leased 4,000 square feet on the second floor of the former Manchester police station, where it provides lunch six days a week and showers, laundry, lockers and ministry.
---
Low-Budget Soup Kitchen a Model for Others
New Hampshire Union Leader, August 6, 2018 (updated December 22, 2018)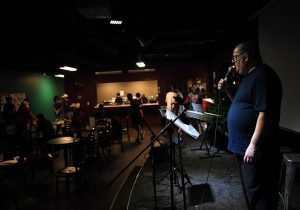 Peter Beauchemin performs during lunch at the 1269 Café in Manchester on Tuesday.Bruce Damoto of Manchester. (DAVID LANE / UNION LEADER)
MANCHESTER — Soft strains of "Amazing Grace" and "Build My Mansion" fill the second floor of the old police headquarters on Chestnut Street. Music trickles down the stairwell and booms from inside the room housing the 1269 Café, a soup kitchen serving lunch six days a week to the city's homeless and anyone on the brink.
The atmosphere is nothing like a cafeteria, or the lines to collect unemployment or to straighten out issues with Social Security. Instead it resembles a large, friendly nightclub, with amplifiers and a microphone on a wide center stage, and small tables for two to four people, many of who whom know each other and have been coming for years. At least a quarter are age 60 or older.
On Tuesdays, Peter Beauchemin, age 62 and disabled, drives from Berwick, Maine, to sing gospel with a country beat to a roomful of 70 to 140 listeners, many of whom are past retirement age and grappling with physical and mental disabilities as well as ways to get by on incomes that steadily or frequently drop below subsistence levels. Beauchemin has been singing at soup kitchens in Maine for four years, and now also sings at the Straight Street Soup Kitchen in Rochester, N.H.
"Some have problems with alcohol or drug abuse, or they've lost their job and can't get another one. Some are living paycheck to paycheck. They're not always unemployed because of something that was their own fault. I try to offer them a little bit of hope," says Beauchemin, dressed in dark jeans, a navy T-shirt, and black framed glasses, with a modest and ready smile. "I believe Jesus came for these people. I don't preach unless someone asks me. I let the music be the message. You might say I sing for my supper."
At a time when municipalities and states are flummoxed by how to bring services, food and shelter to a transient and vulnerable population — typically unwelcome on town and city main streets and in residential neighborhoods — churches and Christian groups are stepping up to the plate by doing what the Bible proclaims.
"When I was naked, you clothed me. When I was hungry, you fed me. The Bible tells us to love others as we love ourselves," says Mary Chevalier, co-director of 1269 Café with her husband Craig. "We're officially an outreach ministry to homeless and people on the edge. We try to be a safety net. If someone is having a stumble, maybe we can catch them and give them a foot up."
---
A Refuge from the Storm for City's Homeless
Manchester Link, October 6, 2017
MANCHESTER, NH – Recognizing that there was a local need to help people on the edge, Mary and Craig Chevalier started 1269 Café eight years ago, a faith-based community outreach center for the homeless. 1269 offers daily meals, showers, clothing, toiletries, and Sunday services.
"We fell into it," said Mary, who calls herself and her husband, Craig, "the gophers" of 1269.
"I kind of run around and do everything, watcher, bookkeeper, announcement lady, my husband calls me the voice because I'm loud."
The couple was always heavily involved with their church. When a pastor from Derry created an experiment in which he went homeless for a week and shared his experiences with the Chevaliers, Mary and Craig realized the severity of homelessness in the Granite State and decided to take a step further toward helping those in need.
"We went out to see what it's like on the street and it wasn't anything we really had any exposure to, and we met some really cool people and so we thought we'd like to continue relationships with these people," said Mary.
1269 began in a tiny storefront on Elm Street, and at the time was being rented out by two other ministries, "and things just snowballed," said Mary.
---
How the 1269 Café is Helping Those Living on the Edge
WMUR- Channel 9, March 8, 2016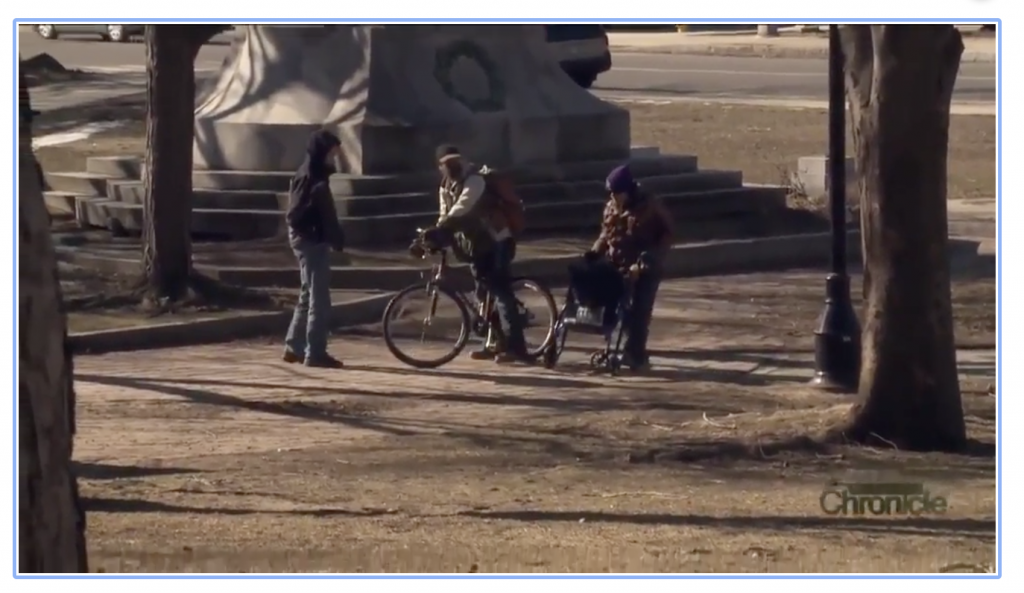 Chronicle NH – MANCHESTER'S HOMELESS —The reality is, there are hundreds of homeless people living in New Hampshire who all have a story to tell– Chris B. is one of them. He let Chronicle New Hampshire take a camera inside his daily life here in Manchester, New Hampshire.  Watch this segment>>>